From 27th Jan 2017, Cheddleton and Leek Chess Club, often called simply Cheddleton or even Chedd, will meet on Fridays at St Andrew's Methodist Church, Ostlers Lane, Cheddleton, ST13 7HS. The church is opposite the end of Ox Pasture and has its own parking area.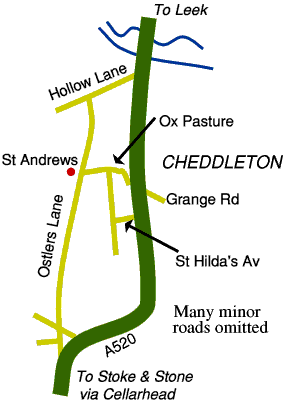 The first thing that any new player to the league learns is that any win against Cheddleton is a good win. Indeed, I suspect that thay are the original composers to the words of the ditty now known as the Millwall football song.

Juniors is many peoples first reaction to the name Cheddleton, and it is true that the club has more than its share of type IV brats; but even without these the club would still be the largest in the area.

The club is not merely large, it is also successful in playing terms, and tends to dominate the associations competitions.

2016/17 fixtures and results appear at the links below.