Obituaries, announcements and Tributes
Fred Spicer
Fred was deemed an enigma by many friends at Creda.

His passion was football - a party piece was to recite the whole Hungarian team which beat England early 1950's.

I knew Fred initially from his meticulous cricketing scoring prowess at Creda.
When the team was short he would play with great gusto. He enjoyed wicket keeping and would use his whole body to stop any ball passing him. I have seen him completely demolish the stumps in an attempted run out even though the batsman was well in.

In chess I remember playing at the Blind school
On one visit I was sat down awaiting my opponent - all other boards had started. Fred was called out to take a telephone call. On returning he shouted out to all his other players 'He is coming next week'. Not wishing to wait that long I simply watched the others.

He only played a handful of games for Meir after the blind school team ceased.

I know he used to type out all the chess records for a given season, including individual records.

Physically he was a very strong man and moved heavy items with relative ease.

Fred was one on his own but a genuine hardworking and dedicated person. I always chatted with Fred when I saw him out and he would always ask me to remind him to Rob Milner.

Fred will be sadly missed

Bob Perry
---


Fred Vincent Spicer 1938-2019 was born at Normacot.  He was taught to play chess by his father, Vincent Spicer, who had been a member of the North Staffordshire Chess Club which was the successor of the old Hanley Chess Club and flourished in the 1920s and 1930s. He also turned out very occasionally for the club which was the successor to both of these - the Stoke Victory Club - in the years immediately following the war.

Fred left Queensbury Road School in 1953 and after trying his hand at a few different jobs and serving his time in National Service, he started work in 1958 at Simplex Creda at Blythe Bridge, where through a variety of name changes by the company, he remained in the stores for the remainder of his working life. I spent some months of 1965 working at Simplex Creda in the stores, where I was under Fred's supervision. He was incredibly precise and meticulous. He knew every minutest detail of what he was dealing with and everyone knew it.

In the very late 1960s, he joined Willfield Chess Club just before they became Meir for the first time in 1972.

1972 was a most important year in the history of North Staffordshire Chess with the death of Laurie Landon leaving a hole that looked difficult to fill.
Several people stepped forward to take on some of the responsibilities that Landon had held and one of these was Fred. He volunteered to become the Results and Records Secretary and this was later ratified at the League AGM.
The qualities that were so useful to him in his job were invaluable as the League Results and Records Secretary. His love of detail and sheaves of names and results were indulged to the full and no-one better for the job could be imagined.

For a period, towards the end of his playing career, he transferred his allegiance to the Blind Social Centre which catered for his dislike of playing away fixtures but returned to the Meir for his last few years.

Many years ago, he once said to me "You know, you have to have a good stores man to do a job like this, nobody else could do it". I had to agree with him.

In the end, the computer age caught up with him and he had to bow to the inevitable, retiring as the League Results and Record Secretary at the 2011 AGM.

Over the last few years, the old enemy - time - caught up with him and his last few years were dogged by ill health. His flag finally fell for the last time on Sunday 7th July. His funeral was held at St. Peter's Church, Forsbrook on Monday 29th July prior to burial in Forsbrook Cemetery.

We take this opportunity to send our condolences to his family and especially his sister, Freda.

Everyone who ever played him - in fact, everyone who ever knew him - will have an amusing anecdote to remember and these will all serve to keep his memory alive for ever.

He was a good friend and an amusing companion and above all was a tremendous servant to the League.

Robert Milner 30th July 2019
with minor edits
---


Logical. That was one of Fred's favourite words. If he approved of something, it was logical, if not it wasn't.

Did I say Fred? Yes. On the local chess scene his surname was superfluous. Just say Fred and everyone knew who you were talking about.

He was a man of firm convictions who believed in the proper way of doing things, yet the human condition still left him open to contradictions. He shunned modern technology, but he did have a digital clock. Which he could not reset beyond a single setting, leading to mental gymnastics to work out the true time position.

Anecdotes about Fred are legion, but never told with malice. Of all the players I met in North Staffs he was by far the one most entitled to be called a Character.

Martyn Harris
---
Mike Judd
Mike had been ill for over 5 years, but fortunately had been free of any significant pain even at the end of his life. The things that really saddened him about his condition were that it gradually robbed him of two of the pastimes which he had enjoyed enormously.

I accompanied him often on walks in the Peak District and in North Wales. The hill walking was an activity which he had discovered about 30 years ago and there was rarely a week when he failed to get out on a proper walk. Often it was limited to several miles in the hills of Derbyshire or Staffordshire, but he delighted in these as much as in the more challenging climbs up mountains like Scotland's Ben Nevis or ones like Snowdon, Tryfan and Knicht in Wales.

League chess he discovered even later in life. Mike's neighbour, Peter Woodward of Meir Chess Club (then known as the Creda club), had begun playing friendly games with Mike when they went to their local pub and Peter eventually suggested to him that he was playing well enough to enjoy competitive games. He joined the Meir club about ten years ago when it was still based at Creda and quite soon his game improved and he became one of the keenest players at the club. Even outside the regular league season it was unusual to find Mike missing a Monday evening at the club.

It was thanks to Mike that I was encouraged to join Meir about eight years ago.

Stuart Green
---
Geoff Yates
It is with great sadness that I have to announce the death of Geoff Yates, a long time stalwart of Fenton Chess Club, following a long battle with cancer. Geoff originally played for Smallthorne at the Pioneer Club from 1990 until 1998 when it closed down. He then joined Fenton (or the Angel Chess Club as it was known at the time) in 2001, making him their second longest serving member. A great many of you will have known and played against Geoff over the years and his ready wit and humour will be greatly missed by everybody, particularly his friends and colleagues at Fenton Chess Club. Our condolences go to his wife, Norma, and all of his family.

Steve Emmerton
---


If you play chess not just for the game but also because of the people you meet then a trip to Fenton was always eagerly anticipated as it represented an opportunity to meet up with Geoff, who proved that it is possible to be amusing and a character without being loud. His playing style was also original, showing particular inventiveness in the middle-game. Geoff was also a captains dream in that until his illness took hold he could be relied upon to turn out for almost every game on the fixture list. His passing leaves the local chess scene that little bit greyer.

Martyn Harris
---
Ray Poole 1934 - 2013
Ray was born at Leek on 22nd January 1934. He was a team captain for Cheddleton and Leek for fifteen years and took over as Secretary of the club in 1989. He also took over as Treasurer in 1994 and remained in both posts until illness caused him to retire in 2011. He devoted a great deal of time and effort and love to chess and played correspondence chess for many years as well as playing over the board up to county level.

During his later years he wrote fourteen books about Leek - the town of which he always felt a part - and the surrounding area. He was one of the founders of the Leek Historical Society and served as Chairman for many years. He remained a fount of knowledge on all aspects of Leek for the whole of his life. He was also an important figure in the Methodist Church of which he was a lifelong member and much requested local preacher. He was involved in every aspect of Leek life. He was a lifelong supporter of Leek Cricket Club — the subject of one of his many books — and Lancashire County Cricket Club as well as Port Vale Football Club and, to a lesser extent, Stoke City Football Club.

He was a devoted brother to Brian and father to his two sons, Stephen and the late David, and grandfather to Alice, Jamie, Emily and Mietta and was married to Dorothy for fifty five years. He was among the best of men and no-one ever said a bad word about him. He died early on Saturday morning 23rd March 2013 after a long, lingering and cruel illness. He will be sorely missed and can never be replaced.

Robert Milner
---
Alan Sime
You will be saddened to hear of the sudden death of Alan Sime on Saturday December 29, 2012. Alan was a long time member of the Macclesfield Club and played a full part in its activities for nearly 40 years. He served as club secretary for a long period and was for many years second team captain in the Stockport League. At a time when officers were hard to find, Alan served as President of the Stockport League for 3 years.

Alan was a great supporter of chess in the area; he would frequently play in the many congresses in the region. He was always keen for the club to maintain its contacts with the North Staffs League and must have played in hundreds of matches over the years. Whenever the club was short of a player at short notice you knew that if Alan was not already in the team a quick phone call was all that was needed to get him to travel. Indeed, the only times I have known him decline were when Macclesfield Town played at home!

I was one of many to be made to feel welcome by Alan at the Macclesfield club on joining, and we regularly travelled together to play in congresses. Alan was a real gentleman, someone I never saw angry, generous with his time, and his loss will be hard felt.

Geoff Laurence
---
Simon Elliott
I am sad to say that Simon passed away this morning (28 Feb 2012) after being taken ill at the week end.

I am sure that the records show that Simon had played for Kidsgrove for 40 years and for Electra before that.
Robert Milner confirms that Simon first played for Electra in 68/69 before moving to Kidsgrove for the 70/71 season.

Even though he was having difficulty playing through failing health, he still loved his chess and I was playing him just a couple of weeks ago at the club.



Julian Cook
---


I've played Simon many times over the years and always found him very gracious regardless of the result - he truely played because he enjoyed the game rather than to massage his ego.

Martyn Harris
---
Peter Neal (1945-2012)
In 1981 Peter formed and ran the Millstone Chess Club that played in the 3rd division of the SDCL in the early eighties. Peter also joined Macclesfield CC when they moved to licensed premises and remained a member until he relocated to Turkey.

From 1984-1992 he acted as either the League's Competition Secretary or as its Match Captain and often as both. This was in an era when the League had annual matches against other local leagues such as Warrington, Crewe and also the Schools. Peter gave up the Competition Secretary's position when the Stockport Quickplay was firmly established. Not content with these roles he captained Macclesfield B and also ran a team in the Stoke League. How often do we nowadays cry out for someone prepared to take on responsibilities?

For Peter chess was to be played quickly and with his heart on his sleeve. If he made a blunder the whole room heard the groan, when he pulled off a swindle chuckles burst out and post  mortems were conducted several decibels above a whisper. The etiquette may not have been perfect but only a fool would have objected to his transparent enthusiasm for the game. A man of trenchant views, he had no truck with the so-called benefit culture: when he had to give up landscape gardening because of back problems he took on three part time jobs to realise his dream of a life in the sun. Sadly that dream was curtailed too soon.

Tony Soames
---
Nicholas Salt
October 2011

I regret to announce the death of Nick Salt who played for Cheddleton and Leek Chess Club for a number of years and found the game a refuge from the problems of everyday life.

Martyn Harris
---
John Donaldson
Left: John in action on cup final night at Creda, 2005
Kind, considerate, friendly and loyal. These are the first words that come to mind when I think of John Donaldson. Sadly on Sunday 11 April 2010 John Donaldson lost his battle against a long illness.
It was through chess that I met John back in the late 80's when I poked my nose in the chess room to see what it was all about. JD was one of the key members of Meir Chess Club and gave me a warm welcome we had a chat and I was hooked. JD and I became very good friends and I came to realise he was an instrumental member of the club steering it to what it is today.
He approached all things in life with gusto and enthusiasm, he loved chess and worked extremely hard to support the club. It was very fitting that he became the President of the club towards the end.
John became like a family member to me and my family as did his wife Peggy. We were fortunate to get to know all his family, we met and socialised regularly outside of chess.
He doted on his family they all meant so much to him and he spent many hours strengthening his family ties with genealogy research going back many centuries.
As my thoughts go out to them and their sad loss I am sure those that knew JD probably longer than I will join me in offering heartfelt condolences.
Today the 23rd April we have an opportunity to celebrate Johnny's life at St Edwards Church in Leek, and remember his cheeky smile and sense of humour and also to say our goodbyes.
My fondest memory of JD is during pleasure chess he would regularly ask for a move to be taken back, of course we would oblige after all what did it matter it was pleasure chess. Then he would grind you into the ground and wipe you off the board. We always referred to it as the JD take back manoeuvre. As much as I would love to this time I cannot oblige, this is one move you can't take back.
Journey well Johnny, when you get there you can play chess with the best of the best.
Goodbye my old friend, you will not be forgotten.
Mick Andrews
---


It is with regret that I report that John Donaldson passed away last night at the Douglas Macmillan Hospice. I only knew John through playing for Creda in the Derby League, but it was apparent that his good humour and willingness to be involved were key factors in the evolution of the club.

Martyn Harris


---
Dave Ross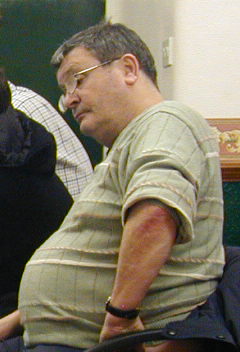 It is with regret that I report that Dave Ross passed away last week. He will be fondly remembered and sadly missed by all his friends at the Alsager Chess Club, not only for his support of the club, but also for his wit and wisdom - he was a true character. Service is at All Saints Church, Liverpool Road West, Church Lawton at 13:45 on Thursday, 23rd April 2009.

Alan Thomason

Right: Dave at the 2008 Newcastle Mini Congress


---
Kris Chesters
I am sorry to announce that Kris Chesters died suddenly last week. His funeral is at Henbury Church on Friday week (ie 8th June 2007) at 11:45. Kris represented Macclesfield and played a number of times in the Stoke League over many years.

Geoff Laurence


---