2015 Leek Rapidplay Chess Congress
Sunday 14th June 2015
This is a 6 round rapidplay event with Fischer timings of 20 minutes for each player per game, with an extra 10 seconds added per move.

The venue is St Edwards CE(A) Junior High School, Westwood Road, Leek, ST13 8DN. Parking at the school should not be a problem. Note that this is not the same venue as for the Leek Congress held in September.

There are two sections:
Cheddleton for players graded under Open,
St Edwards for players graded under 145.

Entry fee £17, reduced to £14 for those aged under 18 or over 65 on the day of the event. £2 early entry discount for entries received before 8th June, £5 surcharge for entry on the day.

ECF bronze members and non-members are required to pay a £6 supplement (£4 juniors).

Prizes of £100, £60 and £30 in each section, plus a further prize of £25.
Highest placed North Staffordshire League player will be awarded the Alan Wilshaw Memorial Rosebowl.

ECF rapidplay grades (Jan 2015) will be used for those who possess them, else normal play grades will be used to determine eligibility.
Playing times
Rounds commence 1000, 1125, 1250, 1415, 1540, 1705.

½-point bye may be claimed in round 1 but must be requested before start of play.

For entry contact the Congress Director
Robert Milner
411 Cheadle Road, Cheddleton, Leek, Staffs ST13 7BH
Tel 01782 550112
Getting There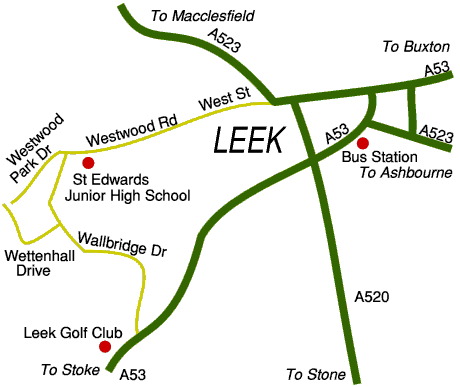 There is a more detailed street map of Leek here.